Simplify your weather
Our mission is to provide you with the most accurate, real-time, localized, meteorological solutions available – so that you can make the best business decisions possible.
Engaging with Precision Weather Solutions enables you to be part of one of the largest, most accurate and fastest alerting meteorological networks on earth. Weather stations in the Precision Weather Solutions network stations are part of the largest real-time weather monitoring network in the world – more than 10,000 strong in North America and 20,000 around the globe. It's strong and growing.
Our industry-leading accuracy is enabled by our proprietary technology, modelling, and data processing, and 30 years of expertise in the field. From single-site installations, to the creation of multi-thousand site meteorological networks – we can help you access the localized weather data, forecasts and extreme alerts that you need in order to both mitigate risk and improve profitability.
Immediate and accurate weather makes the difference. Aviation utilizes these solutions, saving billions and making millions more in profits. Utilities are collating the rise and fall of temperature with public demand for energy. Professional sports teams use it to keep thousands of fans and players safe from lightning and severe weather. Agriculture is delivering agronomic modeling and precision decision making tools through Precision Weather Solutions.
Real-time, accurate, localized meteorological and climatological information is critical to your organization, and your partnership with Precision Weather Solutions will enable you to make better, informed decisions.
Our Chief Meteorologist
Chief Meteorologist Guy Ash has 25 years of experience in meteorology and climatology. He served as the Agricultural Meteorologist for the province and Agro-Meteorologist for the country's wheat board. His career also includes experience as a university professor and researcher, and weather station networking pioneer. Ash has pioneered solutions in agronomic modelling, decision support tools, remote sensing, monitoring and forecasting, and meteorological networking. In addition to his work in agriculture, he also provides consultation for professional sports teams, special events and film production, and recreation.
Product and Service Inquiries
If you are interested in learning more about Precision Weather Solutions' products and service please contact Kevin Parsons at 204-221-7179 or kevin@precisionweathersolutions.com.
PWS PRECISION WEATHER ALERTS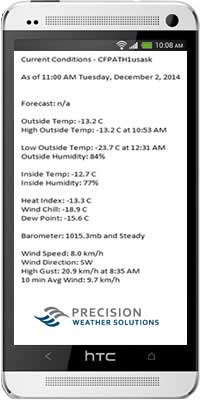 PWS Precision Weather Alerts are customized per location for a variety of variables such as: rain, snow, ice, frost, wind, fog, lightening, and temperatures. PWS Alerts arrive on your phone or desktop earlier and with more accuracy than from any other network. Keep your fans, students, staff, customers and equipment safe with severe weather detection and alert services focused on your location.
PWS PRECISION FORECASTS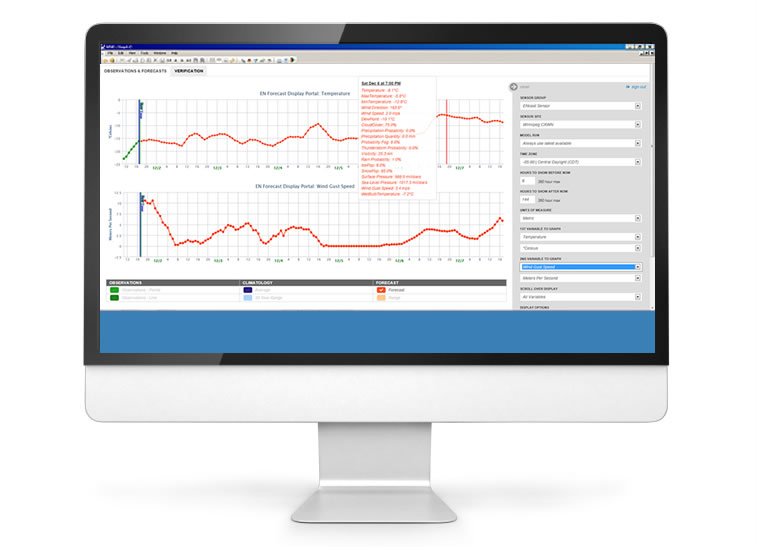 Site-specific, real-time weather observations from around the world are ingested into one of the preeminent forecasting models developed by one of Precision Weather Solutions corporate partners.
With its partners and affiliates, Precision Weather Solutions delivers a site-specific precision forecast that updates every hour for 24 hours a day. Forecasts and severe weather warnings offer 25 – 35% less error than airport forecasts. Precision Forecasts are the earliest, most accurate forecasts available and afford decision-makers with the difference in minutes that earn profits and avoid loss.